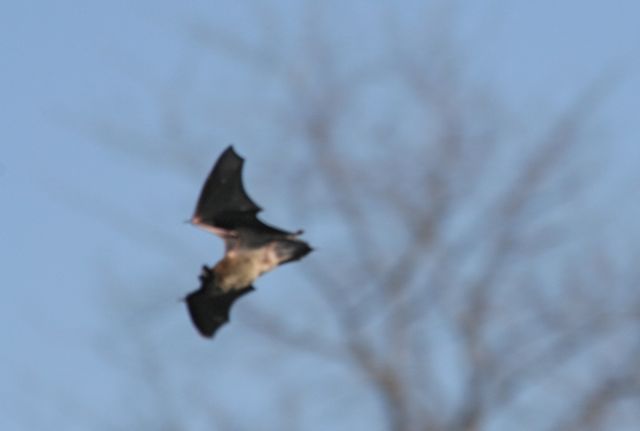 The disturbing die-off of the Northeast's bats has been mostly something we've heard about on the news.
Reporters have accompanied biologists into abandoned mines to witness bats dying or dead, piled on the floor of their winter hibernacula.
Last summer the phenomenon became something we could discern ourselves, in what was missing; few bats flitted overhead or skimmed the lake at dusk. This spring the catastrophe is no longer a strange void or a thing happening in a dark cave somewhere. In March and early April, people all around the Adirondacks began reporting bats flying by light of day. "I first thought I was seeing large moths but they turned out to be bats," goes an anonymous March account from Keene Valley, one of several from birdingonthe.net. "This was at 11 a.m. in full sunlight. We saw several as we hiked in and later on Route 73 driving home. There were hundreds along the road, probably thousands in the area."
The bats had left hibernation too early. It's not unheard of for a bat to emerge on an early spring day. But generally we shouldn't be seeing bats in the air until about now, late April, when they can find enough insect prey, and then mostly in the evening or at night.
White-nose syndrome, a fungus linked to massive mortality among several species of bats from Vermont to Virginia, causes them to lose body fat and stir when they should be sleeping and conserving energy through the winter. Some bats leave hibernation prematurely, looking for food. They die of exhaustion or fall easy prey to birds. Ravens are reported to be perched outside a mine shaft in Lyon Mountain, picking off the flying mammals as they emerge.
"Bats are poor flyers relative to bird predators under the best of circumstances," says Carl Herzog, a New York State Department of Environmental Conservation (DEC) wildlife biologist. "At night, when they normally fly, they generally only have to deal with owls, which don't typically take their prey on the wing. These bats, which are on death's door, don't stand a chance against daylight-adapted peregrine falcons, Cooper's hawks and other raptors."
The problem was first identified in a cave west of Albany in 2006. The U.S. Fish & Wildlife Service has recently updated its white-nose syndrome page with ways for citizens to report bats seen too early in the season or the day.
Herzog is coordinating a new acoustic bat survey. Volunteer participants statewide will drive selected routes after sunset one evening in June, using DEC equipment to pick up their high-frequency sounds and count the bats.
Photograph of big brown bat courtesy of Julie Zickefoose.