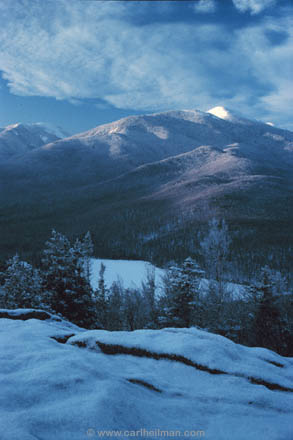 Capturing the Adirondacks in winter is something that only the hardiest of hikers and Adirondack photographers do. Painters will sometimes take on the weather, but the stillness of winter is really for photographers.
The days are short, the air is cold, and the light falls in slants through the bare trees. This is the time and place that belongs to Carl Heilman, II, a photographer who has been roaming the mountains for more than three decades, producing spectacular panoramas from the frozen lakeshores to the frosted tips of the peaks.

So who better to learn from? Heilman has been leading treks through the Adirondacks as long as he has been taking photographs, and through his workshops, he has shared the secrets to his wonderous photography with others who, in their own way, help to carry on the Adirondack tradition.
On January 28th, Heilman will be teaching the photography workshop, "Nature in Winter" from 9 am – 5 pm at the Wild Center in Tupper Lake. The morning will be devoted to seminar instruction and Q&A to prepare participants for an afternoon of shooting on the Wild Center property and at nearby locations.
The Wild Center workshop is $125 to members and $138 to nonmembers for the day, and includes the free use of snowshoes. Notification of other equipment and recommended clothing will be provided upon registration. Register directly by contacting Sally Gross: sgross@wildcenter.org, (518) 359-7800, ext 116.
Photo by Carl Heilman, II.
Linda J. Peckel explores the Adirondacks by following the arts wherever they take her. Her general art/writing/film/photography musings on can be found at her own blog Arts Enclave