ECOs Assist Boaters on Great Sacandaga Lake – Fulton County
On June 6, ECOs Shane Manns and Paul Pasciak were patrolling near the Broadalbin boat launch when a wind storm came through the area.
Dozens of vessels began to crowd the launch due to the large waves and windy conditions. ECOs Manns and Pasciak immediately began assisting boaters, safely pulling them to shore and retrieving vessels.
ECO Pasciak rescued a woman who fell overboard from a vessel near the docks and both ECOs rescued an individual who fell off of a personal watercraft and was having difficulty getting to the dock. Dozens of vessels and people safely reached the shore with assistance from the two ECOs. Photo: ECOs Pasciak and Manns assisting boaters during wind storm on Great Sacandaga Lake
ECO Responds to Spill – Franklin County
On June 6, ECO Jennifer Okonuk assisted the New York State Police (NYSP) with a motor vehicle accident in the town of Bellmont. A tractor trailer struck the back of a SUV, injuring the driver. An undetermined amount of hydraulic fluid spilled from the truck, entering the Chateaugay River, a DEC fishing access site. NYSP ticketed the driver for following too close, and ECO Okonuk coordinated with DEC Spill Responders and the trucking company to mitigate the effects of the spill and conduct an immediate cleanup.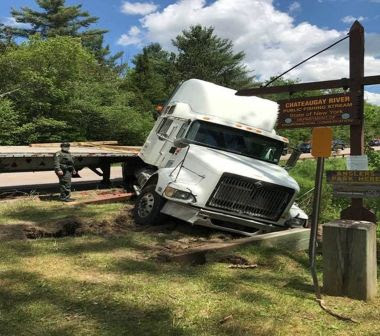 ECO Okonuk investigating spill from motor vehicle accident
Red-Tailed Hawk Rescue – Fulton County
On June 2, ECO Shane Manns received a call from an individual who found an injured red-tailed hawk on the ground. The Officer responded to the area and located the hawk with an injured wing. ECO Manns gently wrapped the hawk in a blanket and placed it inside a carrier in his patrol vehicle. He transported the bird to a local, DEC-permitted rehabilitator for evaluation and care. A few days later, the rehabilitator informed ECO Manns that the hawk should make a full recovery and is set to be released soon.