Recent actions of DEC Environmental Conservation Police Officers (ECOs) 
Whipping Winds Strand Boaters – Herkimer County
On Sept. 7, ECO Tabor, four hours into an early morning shift checking goose hunters, noticed winds increase dramatically. At approximately 9 a.m., DEC Dispatch called him requesting assistance for stranded boaters on Stillwater Reservoir. The boat started taking in water from the waves as it attempted to return to the launch. At the same time, another party heading to the launch in paddle craft became overpowered by wind and waves, taking refuge on a small gravel bar. ECO Tabor called Forest Ranger Savarie, working nearby, who met the ECO at the Stillwater launch. The Officers then traveled to the stranded boaters' locations in separate boats. At the island, the ECO/Forest Ranger team transferred the gear and people to the larger DEC vessel.
With the load lightened, ECO Tabor operated the small boat closely behind the larger boat, allowing a safe crossing. With the first group safely back to the launch, the Officers picked up the second group and assisted them back to shore. In all, eight people, one motorboat, and four paddle craft were returned safely to the launch. Photo: Storm clouds over Stillwater Reservoir
Flood Incident Support Team Training – Warren County
During the last week of August and first week of September, New York State's multi-agency Flood Incident Support Team (FIST), led by the State's Office of Fire Prevention and Control and consisting of DEC Environmental Conservation Police Officers, DEC Forest Rangers, State Police, Parks Police, State Fire, and the State's Task Force members participated in four, one-day training exercises on the Hudson and Sacandaga rivers in the town of Lake Luzerne. Each agency brought different equipment to train with throughout the day, allowing participants to familiarize themselves with each agency's assets and equipment. ECOs attended with their specialized 21-foot SJX Jet Boat deployed during flooding and search and rescue events in swift- and low-water conditions. Additional trainings are scheduled across the state over the next several weeks.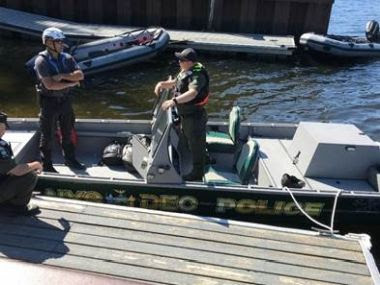 ECOs Manns and Kelly familiarize personnel with SJX Jet Boat prior to departure
Too Many Bucks – Jefferson/ Onondaga Counties
On Sept. 8, ECO Noyes concluded a five-month investigation stemming from violations committed during the 2019 deer hunting season. ECO Noyes learned in April that an individual had shot two bucks on the same morning in the town of Ellisburg, and illegally used his friend's tag on the second buck. After locating and interviewing Jason Burns of Cicero, the suspected poacher, ECO Noyes discovered several more instances of ECL violations-a total of 18 violations in Jefferson and Onondaga counties, including three bucks and one doe shot illegally. ECO Tabor worked with an Onondaga County ECO to file charges in the Town of Cicero Court and Town of Ellisburg Court against Burns. He agreed to a civil compromise and paid a penalty of $500.

Two bucks and one doe taken on same morning with firearm in Ellisburg
"Cold Drinks! Get Your Cold Drinks Here!" – Jefferson County
This summer, ECOs Kochanowski and Jarecki were on patrol checking fishing access sites when the Officers came across two budding entrepreneurs taking advantage of the summer heat by luring in thirsty customers to a cold drink stand. It didn't take long for the ECOs to approach the salesmen, 10-year-old Sackets Harbor residents Carter Cook and Jacob Weaver. The kids lined up beverages including ice-cold water, lemonade, and cranberry and apple juice. After selling the ECOs drinks, the duo explained how excited they were to meet Environmental Conservation Police Officers. Jacob even expressed that it was his dream to become an ECO because of his love of hunting and fishing. The Officers explained the hard work that goes into being an ECO and encouraged Jacob to chase his dream. Carter noted with a smile that will stick with the ECOs forever, "It's true, one person can really make another person's day."

(Left to right) ECO Jarecki, Carter Cook, Jacob Weaver, and ECO Kochanowski after successful sale