Town of Hope
Hamilton County
Law Enforcement: On July 29 at 9 p.m., while patrolling Wilcox Lake Wild Forest, Forest Ranger Nally stopped a truck driving illegally on State land. The driver provided his name and date of birth, but due to poor radio and cell service, Ranger Nally couldn't check it until back in communication range. At that time, Ranger Nally learned the license plate didn't match the subject's personal information. Ranger Nally returned the next day to check the license plate again and learned the subject had active felony warrants out of Virginia. Rangers Kerr and Nally arrested the fugitive and turned him over to the Fulton County Sheriff's Office. The subject was also issued tickets for illegal motor vehicle use on State land and depositing rubbish on State land.
Town of Keene
Essex County
Training: On July 31, four Forest Rangers participated in climbing training on Chapel Pond Slab. Ranger Mecus served as the lead climber while Rangers practiced climbing the main route on the way up, and the descent route on the way down. Rangers have been called to the area on numerous occasions for rescues.
Town of North Elba
Essex County
Wilderness Rescue: On Aug. 1 at 11:59 a.m., Ray Brook Dispatch received a call reporting a subject who had fallen on Cobble Hill. Forest Ranger O'Connor hiked in from Whitney Mountain Way to reach the 62-year-old from Alabama and splint the hiker's ankle. Ranger Praczkajlo drove in with an ATV and transported the subject to the trail junction while Ranger O'Connor walked out with the rest of the hiking party. Resources were clear by 1 p.m.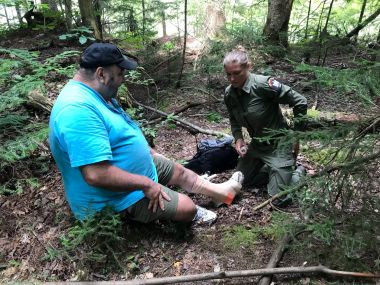 Cobble Hill rescue

Cobble Hill rescue
Village of Saranac Lake
Franklin County
Lightning Strike: On Aug. 4 at 1 p.m., while patrolling the Follensby Clear Pond boat launch, Forest Ranger Adams heard sirens approaching and saw a Tupper Lake Volunteer Fire Department Truck pull into the boat launch. A 34-year-old from Pennsylvania and a 44-year-old from Syracuse were camping in a tent at the base of a tree struck by lightning; the lightning hit the pair, as well. Ranger Adams rode with Tupper Lake EMS to the island. Ranger Praczkajlo and Saranac Rescue also responded. Both subjects were able to stand and get onto the boat. The visitors were taken back to the boat launch before being transported to the hospital. One subject is on crutches with swelling to his ankle. The other is experiencing hearing issues.

Rangers respond to lightning strike

Tree hit by lightning
Town of Fine
St. Lawrence County
Wilderness Search: On Aug. 5 at 9:47 a.m., Forest Ranger Emerson was notified of a missing 76-year-old from Troy who had left the High Falls lean-to at approximately midnight and failed to return. The subject's daughter left the campsite and hiked to Wanakena to get help. Rangers took a boat to begin searching the lean-to area while the Cranberry Lake Fire Department and Star Lake Fire Department took ATVs/UTVs on the trail in the opposite direction. Members of the Star Lake Fire Department located the subject on the trail in good health. Ranger Shea helped escort the visitor back to Wanakena. Resources were clear at 4 p.m.
Be sure to properly prepare and plan before entering the backcountry. Visit DEC's Hike Smart NY, Adirondack Backcountry Information, and Catskill Backcountry Information webpages for more information.
If a person needs a Forest Ranger, whether it's for a search and rescue, to report a wildfire, or to report illegal activity on state lands and easements, they should call 833-NYS-RANGERS. If a person needs urgent assistance, they can call 911. To contact a Forest Ranger for information about a specific location, the DEC website has phone numbers for every Ranger listed by region.